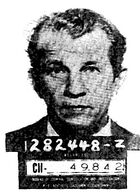 William "Stumpy" Zevon (born 1903- date of death unknown) was a Ukrainian-born Jewish mobster and member of the Cohen gang, headed by Los Angeles mobster Mickey Cohen.
Biography
Edit
William Rubin Zivotofsky, was born in Kiev, Ukraine, in 1903. His father, Rubin, left for New York in 1905, and the Zivotofskys of Ukraine became the Zevons of Brooklyn. He was of Russian Jewish origin and lived in Chicago, Illinois where he was allegedly involved in gambling with Chicago Outfit boss Sam Giancana. He was married to Beverly Cope Simmons. Zevon moved to California and became a bookie who handled volume bets and dice games for notorious Los Angeles mobster Mickey Cohen. Zevon worked for years in Cohen's Combination, where he was known as Stumpy Zevon, and was best man at Cohen's first marriage. Zevon's police record showed arrests for gambling, burglary, receiving stolen property, robbery and violation of prohibition liquor laws.
He was the father of American rock singer-songwriter and musician Warren Zevon. He was also allegedly related to folk/blues singer Jedaiah Zivotovsky. He worked as a boxer (serving as part of the inspiration for Warren's "Boom Boom Mancini" song), but was also a life-long criminal (probably part of the inspiration for his son's gritty outlaw songwriting).
Ad blocker interference detected!
Wikia is a free-to-use site that makes money from advertising. We have a modified experience for viewers using ad blockers

Wikia is not accessible if you've made further modifications. Remove the custom ad blocker rule(s) and the page will load as expected.