Vincent Curatola (born August 16, 1953) is an American actor and writer. Curatola's best-known role is that of the cold, calculating, chain smoking Johnny Sack from the HBO drama, The Sopranos. He is also a singer and has appeared onstage several times with the rock band Chicago. Curatola was born in and grew up in Englewood, New Jersey, where his boyhood paper route allowed him to meet many performers. He currently lives in New Jersey, and keeps in contact with fans who can contact him through his personal website. Curatola recently had a cameo in the Hillary Clinton video announcing her "campaign theme song," which was a parody of the final episode of The Sopranos. Curatola is currently the celebrity endorser for an Anti-Union group called the Coalition for a Democratic Workplace.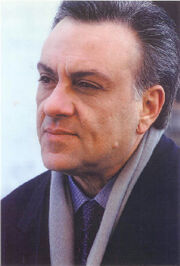 Ad blocker interference detected!
Wikia is a free-to-use site that makes money from advertising. We have a modified experience for viewers using ad blockers

Wikia is not accessible if you've made further modifications. Remove the custom ad blocker rule(s) and the page will load as expected.