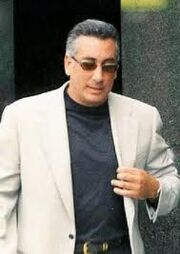 Vincent J. Basciano (pronounced bah-see-an-oh) (born November 14, 1959)[1] is an American mobster who became acting boss of the Bonanno Crime Family after the arrest of boss Joseph Massino.[2] After the arrest of Bonanno crime family boss Joseph Massino, Vincent Basciano became one of the most powerful mobsters in America.
Biography
Edit
Basciano is nicknamed "Vinny Gorgeous," due to owning a Bronx beauty salon called "Hello Gorgeous," and for his fastidious grooming, hairstyle and looks. In 2011, several reporters noted that despite being imprisoned, Basciano still looked perfectly groomed in the courtroom.[3]
Basciano became acting boss of the Bonnanos in 2004 following the indictment of mafia boss Anthony "Tony Green" Urso. In late 2004, Basciano ordered the murder of Bonanno associate Ralph Pizzolo. On wiretapes Bascianno explained that he thought Pizzolo was a 'jerkoff' and that he felt that Pizzolo's execution would be a wakeup call to people in Bonnano Family. As boss Basciano also plotted the murders of Genovese associate Joseph Bonelli and a federal prosecutor. However, both murder contracts were not carried out.
On May 6. 2006, Basciano was convicted in a racketeering trial for running
illegal gambling
and attempted murder. However, due to a hung jury, Basciano was not convicted of the 2001 murder of Frank Santoro.
[4]
[5]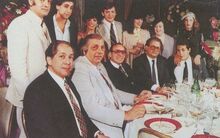 After Basciano's first murder trial, prosecutors again indicted him on the Santoro murder. On August 1, 2007, Basciano was convicted of murdering Santoro, who tried to kidnap Basciano's son,
[6]
[7]
and was subsequently sentenced to life imprisonment.
[8]
On May 16, 2011, Basciano was convicted of ordering the 2004 murder of Ralph "Randy" Pizzolo,[9] On June 1, 2011, a jury rejected a prosecution request for the death penalty and instead sentenced Basciano to life in federal prison.[10][11]
As of December 2011, Vincent Basciano is serving his sentences in the United States Penitentiary ADX in Florence, Colorado. After He moved USP Big Sandy.He has life in Prison.[12]
References
Edit