In the novel, The Godfather, only Barzini and Phillip Tattaglia were killed at the baptism, Stracci remained an ally of the Corleones, who sued for peace along with fellow survivor Carmine Cuneo. He was also an old friend of Nick Geraci who attempted to use Stracci and Frank Greco as part of a plan to resign Michael Corleone from the Commission, but Stracci relayed this information to Michael, who had Geraci executed. In this version, Stracci died sometime in the 70s. Also, the Don was known as Anthony Stracci, as opposed to Victor.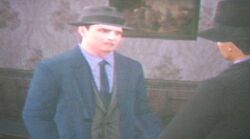 Ad blocker interference detected!
Wikia is a free-to-use site that makes money from advertising. We have a modified experience for viewers using ad blockers

Wikia is not accessible if you've made further modifications. Remove the custom ad blocker rule(s) and the page will load as expected.