Tommy DeVito was a character in Martin Scorsese's Academy Award-winning 1990 mafia epic GoodFellas. The role, played by veteran character actor Joe Pesci, was based on the real life criminal figure Tommy DeSimone, who was an associate of the Lucchese crime family in New York City. Also known as "Tommy D", DeSimone, who was a friend of Henry Hill, and a partner in the gang which was under control of Lucchese mobster Paul Vario (whose name was changed to Paul Cicero and portrayed by Paul Sorvino in the film), was a nephew of Los Angeles mob boss Frank DeSimone.
Parallels to the film and DeSimone's death
Edit
In the film, Tommy DeVito brutally pistol whips Billy Batts (ply by Frank Vincent), a prominent mobster of the Gambino crime family, in Henry's restaurant and shoots him to death on June 11, 1970. Years later, in 1979, Tommy is then deceived into thinking that he is going to be "made," or become a prominent member of the Mafia; he is, instead, shot in the head, execution style, by the Gambino crime family in revenge for Billy Batts' murder.
As in the film, Devino reportedly had gone to a bar owned by Henry Hill called The Suite in Jamaica, Queens, where mobsters had thrown a "welcome home" party to celebrate his release from prison. While at The Suite, Devino ran into DeSimone and remarked that DeSimone used to "shine shoes when he was a little boy". Hill later said that Devino provoked DeSimone because he wanted to impress some mobsters from another crime family. DeSimone took the remark about how he shined shoes in his youth as an insult, but apparently held his anger in check for a moment before snapping and brutally pistol-whipping him, then shooting him to death.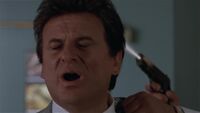 In real life, DeSimone was actually assassinated as a reprisal for having killed both fellow Luchese crime family made man William "Billy Batts" Devino (whom the "Billy Batts" character was based on) and associate Ronald Jerothe, two of John Gotti's friends on June 11, 1970.
Misconceptions about the William DeVino (Billy Batts) death in GoodFellasEdit
The common belief, perpetuated by the 1990 movie Goodfellas, is that Tommy DeSimone murdered Devino for insulting him at The Suite, and that DeSimone (DeVito in the film), Hill, and Jimmy Burke (Conway) had all swarmed upon him without a giving him chance to defend himself. However, the real reason for the Devino murder was that Burke had taken over Devino's loanshark business while Devino was in prison. According to Hill, Devino had been complaining to Joe Gallo about getting back this racket. Not wanting to return the business to Devino, Burke decided to eliminate him instead, instead of DeSimone. When he was attacked, Devino was so inebriated he failed to defend himself. At the time of the murder in 1970, Batts was 49 years old and was a respected and feared made member in the Gambino crime family.
Ad blocker interference detected!
Wikia is a free-to-use site that makes money from advertising. We have a modified experience for viewers using ad blockers

Wikia is not accessible if you've made further modifications. Remove the custom ad blocker rule(s) and the page will load as expected.