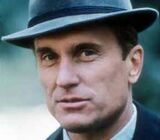 Thomas Feargal "Tom" Hagen (1912–1964) fictional character in Mario Puzo's novel The Godfather and Francis Ford Coppola's films The Godfather and The Godfather Part II. He was portrayed by Robert Duvall in the films.
Hagen is the informally adopted son of Don Vito Corleone and serves as the family lawyer and consigliere. He was a very close childhood friend to Santino "Sonny" Corleone and was considered a brother by the Corleone children. Some have speculated that Hagen is based on real-life mobster Frank DeSimone. While both men were lawyers that came from Mafia families, DeSimone was heavily involved in illicit and violent activities of the gang while Hagen mostly kept his hands clean.
Ad blocker interference detected!
Wikia is a free-to-use site that makes money from advertising. We have a modified experience for viewers using ad blockers

Wikia is not accessible if you've made further modifications. Remove the custom ad blocker rule(s) and the page will load as expected.