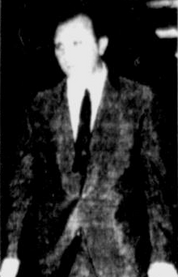 Thomas "Sonny" Ciancutti (born 1930) is an american organized crime figure and the reputed head of the Pittsburgh crime family.
Criminal career
Edit
Ciancutti first became associated with the mob through his mother who worked as a craps dealer in a gambling den run by Gabriel Mannarino. After High School, Ciancutti enrolled in the army but was discharged because of a tick he had developed. Upon his return home he began to work for Mannarino. In 1962 Ciancutti was convicted of income tax evasion and on gambling charges the following year.
Law enforcement began to recognize him a a prominent member of the Pittsburgh family when he accompanied boss John Sebastian LaRocca and Mannarino to New York in 1969 to a meeting of mob figures to determine the successor of Vito Genovese after his death in prison. In 1972 he was charged with running a multimillion dollar bookmaking racket. In 1980, capo Gabriel Mannarino died and Ciancutti gained controlled of his operations. His stature continued to climb during the 1980s. He became a powerful capo and big earner for the Pittsburgh family.
In October of 2000, Ciancutti and 15 other people were arrested for operating illegal gambling activities in Allegheny and Fayette counties, principally sports betting and illegal lottery. Ciancutti allegedly ran an operation that brought in $500,000 a week during the pro football season, keeping 10 percent of the money for himself, state Attorney General Mike Fisher said. In 2002, Ciancutti, 72, pleaded no contest to felony racketeering after a seven-year investigation and prosecution of his illicit betting empire. He was sentenced to 90 days house arrest and 20 months of probation.
Boss of the Pittsburgh crime family
Edit
Ciancutti served as Consigliere of the Pittsburgh family from 2002 until 2006 when he was made Underboss to John Bazzano, Jr., after Bazzano's death in 2008, he became the new boss of the Pittsburgh family.
Although the family is very small with very few made members, the Pittsburgh family continues to operate with Ciancutti reigning as the current crime boss.
Ad blocker interference detected!
Wikia is a free-to-use site that makes money from advertising. We have a modified experience for viewers using ad blockers

Wikia is not accessible if you've made further modifications. Remove the custom ad blocker rule(s) and the page will load as expected.