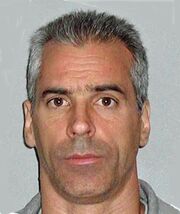 Theodore "Teddy Boy" Persico, Jr. (born 1964) is a capo in the Colombo crime family. He is the son of Colombo gangster Theodore Persico, Sr. and nephew of Colombo family boss Carmine Persico.
Funeral hit
Edit
In the summer of 1993, Persico Jr. was granted a prison furlough to attend his grandmother's wake at Scarpaci Funeral Home in Bensonhurst. After saying a prayer in front of his grandmother's coffin, Persico Jr. sat down in the chapel with three associates and delivered Orena loyalist and capo Joseph Scopo's death warrant, according to testimony by mob rat Anthony "Big Anthony" Russo.
He would plead guilty to the murder conspiracy charge in connection with the rubout of Scopo in 1993 during the third Colombo civil war.
World Trade Center clean up racket
Edit
In March 9, 2010, Persico, Jr., Colombo soldier Thomas Petrizzo, Colombo associates Michael Persico, Edward "Tall Guy" Garofalo, Jr., Alicia DiMichele, Mike Lnu, Robert C. Bombino, and Louis Romeo were arrested for using a Colombo-controlled trucking company, All Around Trucking, to execute a kickback and extortion scheme for debris-removal subcontracting from Boston-based demolition contractors Testa Corporation at two sites: The World Trade Center construction site in Lower Manhattan, and the Newtown Creek wastewater treatment plant on the border between Brooklyn and Queens.
Each defendant faces a maximum of 20 years in prison if convicted of the most serious charges. Ms. DiMichele faces up to five years behind bars upon a conviction.
Conviction
Edit
On May 29, 2014 Persico was sentenced to 12 years in prison for passing the order to underlings in a Brooklyn funeral parlor to whack a gangland rival.
Theodore Persico Jr. is scheduled for release on August 21, 2020.
People murdered by Theodore Persico Jr.
Edit
Order: Nº. Name/Rank/Affiliation/When/Involvement/Reason
Joseph Scopo/Capo/Colombo crime family/1993/Ordered it/Persico ordered his death because he was a member of the rival faction during the third Colombo war.
References
Edit