The Untouchables is the name of a television series that ran from 1959 to 1963 on the American Broadcasting Company. Based on the memoir of the same name by
Eliot Ness
and Oscar Fraley, it fictionalized the experiences of Eliot Ness, a real-life Prohibition Agent, as he fought crime in Chicago in the 1930s with the help of a special team of agents handpicked for their courage & incorruptibility, nicknamed the Untouchables. It was remade into a 1987 film by Brian De Palma also called The Untouchables, with a script by David Mamet.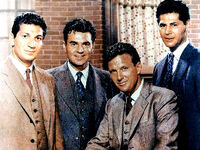 Ad blocker interference detected!
Wikia is a free-to-use site that makes money from advertising. We have a modified experience for viewers using ad blockers

Wikia is not accessible if you've made further modifications. Remove the custom ad blocker rule(s) and the page will load as expected.