The Saint Valentine's Day massacre is the name given to the death of seven people as part of a Prohibition Era conflict between two powerful criminal gangs in Chicago, Illinois, in the winter of 1929: the South Side Italian gang led by Al Capone and the North Side Irish gang led by Bugs Moran. Former members of the Egan's Rats gang were also suspected to have played a large role in the St. Valentine's Day massacre, assisting Capone.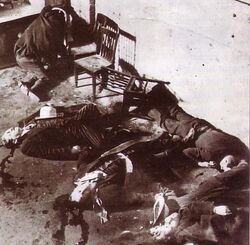 Right: most famous picture of the massacre. From top to bottom:
Not in picture is Frank Gusenberg who died in hospital
Ad blocker interference detected!
Wikia is a free-to-use site that makes money from advertising. We have a modified experience for viewers using ad blockers

Wikia is not accessible if you've made further modifications. Remove the custom ad blocker rule(s) and the page will load as expected.