Spara was an assassin and son of Mosca. He was portrayed by Michele Russo.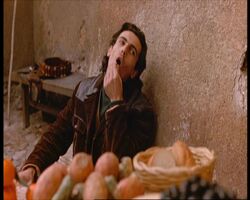 The son of Mosca and an unknown peasant girl, Spara was known from a young age for his braying donkey impression, which endeared him to Ozvaldo Altobello, one of his father's oldest friends and business partners. He began to learn his father's trade upon entering his teens, and was well versed in the art of wielding the lupara shotgun. Spara went with his father to assassinate Michael Corleone, and was on the steps of the Teatro Massimo when Corleone left. He was apprehended by the Family bodyguards, and witnessed the shooting of his father in the exchange of gunfire that also killed Mary Corleone.
Ad blocker interference detected!
Wikia is a free-to-use site that makes money from advertising. We have a modified experience for viewers using ad blockers

Wikia is not accessible if you've made further modifications. Remove the custom ad blocker rule(s) and the page will load as expected.