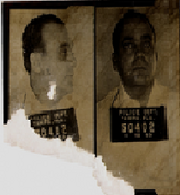 Salvatore "Sam" "Toto" Trafficante (November 14, 1916 - September 11, 2002) was a Tampa, Florida mobster and member of the Trafficante crime family.
Biography
Edit
Sam was a younger brother of notorious Tampa crime boss Santo Trafficante, Jr. His legitimate employment were as a worker at Columbia Hardware in the 1960's for $65.00 a week, he was also employed by Garcia Instant Service gas station.
Although not as big a player, Sam was identified in 1963 and again in 1978 as a soldier in the Trafficante crime family. In the late 1980's and early 1990's he was alleged to be part of an "advisory council" that oversaw the family's criminal operations. He was associated with soldiers James Bruno, Salvatore Lorenzo and mob associate John Favata Cacciatore. He was the father-in-law of current Trafficante family underboss Frank Albano.
He died of natural causes in 2002.
Ad blocker interference detected!
Wikia is a free-to-use site that makes money from advertising. We have a modified experience for viewers using ad blockers

Wikia is not accessible if you've made further modifications. Remove the custom ad blocker rule(s) and the page will load as expected.