Salvatore Vincent "The Boss" Maroni is a fictional comic book villain appearing in comic books published by DC Comics, usually as one of Batman's first enemies, and among the toughest gangsters in Gotham City. Maroni is most famous for being the one who scarred Harvey Dent, setting the stage for the young attorney's transformation into Two-Face.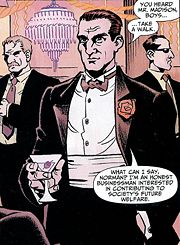 Ad blocker interference detected!
Wikia is a free-to-use site that makes money from advertising. We have a modified experience for viewers using ad blockers

Wikia is not accessible if you've made further modifications. Remove the custom ad blocker rule(s) and the page will load as expected.