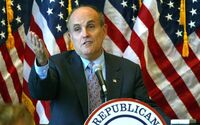 Rudolph William Louis "Rudy" Giuliani(born May 28, 1944) is an American lawyer, businessman and politician from the state of New York who was Mayor of New York City from 1994 to 2001. In the Mafia Commission Trial (February 25, 1985–November 19, 1986), Giuliani indicted eleven organized crime figures, including the heads of New York's Five Families, under the RICO Act on charges including extortion, racketeering, labor racketeering, murder, and murder for hire. Time magazine called this "Case of Cases" possibly "the first ever significant assault on the infrastructure of organized crime.", and quoted Giuliani's stated intention: "Our approach...is to wipe out the bosses of the five families Eight defendants were found guilty on all counts and subsequently sentenced on January 13, 1987 to hundreds of years of prison time. The Commission allegedly ordered a large hit-squad to murder Giuliani before the "Commission trial" started, However, the boss of the Gambino crime family Paul Castellano, and at the time was also the boss of the Commission ordered the contract to be dropped, because Castellano felt it would bring to much heat on the entire La Cosa Nostra empire, if they killed a U.S. Attorney, However, John Gotti and Carmine Persico thought it would be best for La Cosa Nostra to have him killed.
Ad blocker interference detected!
Wikia is a free-to-use site that makes money from advertising. We have a modified experience for viewers using ad blockers

Wikia is not accessible if you've made further modifications. Remove the custom ad blocker rule(s) and the page will load as expected.