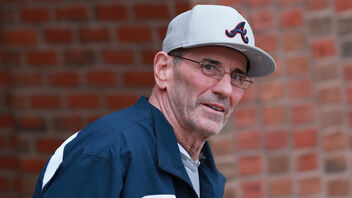 Pryce "Stretch" Quintina (Born 1940) is high ranking mobster in the Patriarca Family.
Background
Edit
Quintina is the nephew of former Patriarca Family consigliere Charles Quintina (Q-Ball), who held the post in the 1990s. In his heyday, he was known as an eager enforcer. "Let me bounce this guy off the fucking wall," he was recorded asking Boston mobster and future Patriarca underboss Alexander Rizzo (Sonny Boy) at a wired-up apartment of a mutual acquaintance as the pair were trying to intimidate an indebted gambler in 1992.
Criminal Career
Edit
Stretch took his first arrest in 1967 on a New Hampshire state assault charge, which he was found guilty of.
Pryce Quintina is still considered a suspect in the 1981 gangland murder of mob associate and convicted felon Angelo Patrizzi, however he has never been charged.
In 1995, Stretch and his Uncle Q-Ball were indicted and convicted together on extortion and racketeering charges. The younger Quintina served an eight-year prison bit and was released in 2002
Stretch was also allegedly at the infamous October 1989 Mafia induction meeting in Medford that was secretly recorded by the FBI.
2014 Indictment
Edit
In the most recent case, acting Patriarca family boss Antonio Spagnolo allegedly ordered Quintina to collect monthly protection payments from the owners of a video poker machine company, Constitution Vending Co., totaling more than $50,000 between 2004 and 2012.
Following their bookings on their charges, Spagnolo and Quintina were both released on bond and fitted for ankle-bracelet monitors.
References
http://www.bostonglobe.com/metro/2014/10/02/revere-man-identified-alleged-acting-boss-new-england-mafia-federal-indictment/lBXG8fvQqihepC5yeIJr0I/story.html
http://www.gorillaconvict.com/2014/10/boston-godfather-busted-spuckys-turn-top-yields-similar-results-predecessors-scott-burnstein-exclusive-www-gangsterreport-com/
Ad blocker interference detected!
Wikia is a free-to-use site that makes money from advertising. We have a modified experience for viewers using ad blockers

Wikia is not accessible if you've made further modifications. Remove the custom ad blocker rule(s) and the page will load as expected.