I'd like to see a movie, but it's nothing but this shoot-em-up action bullshit. I get enough of that at work. - Primo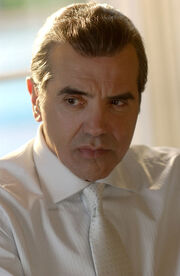 Pepe "Primo" Sidone is an American criminal and former crime boss of the Sidone Crime Family which he re-named. His crime family was seen as the biggest crime family in New York and his character is taken from 1999 movie, Analyze This portrayed by Chazz Palminteri.
His father was a low-level criminal described as a rubbish criminal and father. He met Paul Vitti and soon became jealous of him and his father. He formed his own criminal organization and rivaled with the Vitti Crime Family for control of New York City. He attended the biggest American Mob meeting since the 1957 Apalachin Conference to settle a dispute among other crime families all-over from United States, but it turned out into a shoot-out when Paul Vitti claimed that he refused to take anymore involvement in organized crime. Primo was arrested and send to prison (maybe Sing-Sing federal prison) for owning and shooting an illegal gun which didn't have a license and for the involvement in the American Mafia underworld which was recorded by the feds (FBI).
Ad blocker interference detected!
Wikia is a free-to-use site that makes money from advertising. We have a modified experience for viewers using ad blockers

Wikia is not accessible if you've made further modifications. Remove the custom ad blocker rule(s) and the page will load as expected.