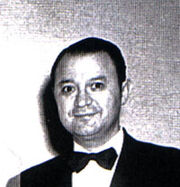 Philip "Phil" Mangano (pronounced "MAN-gan-oh") (1898 - April 19, 1951) was consigliere of the Gambino crime family in New York City from 1931 to 1951 when his brother, Vincent Mangano, was boss.
Mangano was involved with the International Longshoremen's Association and in New York City politics.
In 1923, Mangano was indicted on murder charges, but was never convicted.
On April 19, 1951, a woman in a fishing boat discovered Philip Mangano's body in a marshland area of Jamaica Bay in Brooklyn. Mangano had been shot three times; once in the neck and twice in the face. He was murdered along with his brother on the orders of family underboss Albert Anastasia in Brooklyn in 1951.
Philip Mangano is buried at Holy Cross Cemetery in Brooklyn, New York.
Ad blocker interference detected!
Wikia is a free-to-use site that makes money from advertising. We have a modified experience for viewers using ad blockers

Wikia is not accessible if you've made further modifications. Remove the custom ad blocker rule(s) and the page will load as expected.