Peter Licavoli
Talk

0
1,564pages on
this wiki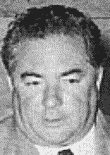 Peter Joseph Licavoli (June 7, 1902 – January 11, 1984), was an organized crime figure in St. Louis, Missouri before moving to Detroit, Michigan. He controlled criminal operations in Detroit and Toledo, Ohio, throughout the Prohibition era.
In the 1930s, Peter was convicted of bribing a federal official and spent two years at Leavenworth Penitentiary. Peter was arrested, tried, or suspected of murder seven times, and released seven times. His son Dominic married Rosalie Zerilli, the eldest daughter of the Detroit Partnership boss Joseph Zerilli. In 1944, Peter left the Toledo-Detroit area for Arizona, living on Grace Ranch near Tucson, Arizona until his death in 1984.
Allegedly when William Tocco's retired in 1963, Peter Licavoli was named underboss of the Detroit crime family until 1972 when a new, younger acting leadership came to power within the Detroit Partnership.
It is said that Peter was a very generous man who gave to the unfortunate unconditionally. Self-educated and blessed with high intellect he was also the inventor and trailblazer for many business models that are being used today.