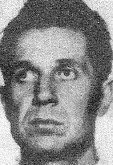 Peter DiFronzo is the brother of John DiFronzo (reputed to be the leader of the Chicago Outfit) and supposedly a made man. His wife, Josephine, is part owner of D&P Trucking, located in Chicago, Illinois, though authorities believe it is Peter and his brothers Joe and John that actually run the enterprise. Peter is also supposedly active in some of the Outfit's racketeering schemes.
He has a conviction for transporting stolen goods and served time in Leavenworth. His name appeared on a 2002 FBI list as a potential threat to the life of Nick Calabrese, a star witness in Operation Family Secrets under federal protection.
Ad blocker interference detected!
Wikia is a free-to-use site that makes money from advertising. We have a modified experience for viewers using ad blockers

Wikia is not accessible if you've made further modifications. Remove the custom ad blocker rule(s) and the page will load as expected.