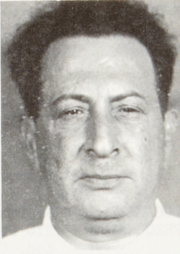 Paolo Gambino (born November 20, 1904- date of death unknown) also known as "Don Paolo", was a member of the Gambino crime family and younger brother of infamous mob patriarch Carlo Gambino.
Biography
Edit
Paolo was born two years after his brother Carlo in 1904 in Palermo, Sicily. After his immigration to the US he joined his brother in organized crime and later became a naturalized American citizen. He allegedly had a big role in his brother's organization once Carlo became the boss of his own crime family. Paolo married Caterina Castellana and had four children together, they resided in Brooklyn, New York.
Among his closest criminal associates were his brother Carlo, Frank Scalise, Joseph Profaci and the deported Lucky Luciano. He was the owner of the Blue Star meat market in Flushing, New York and was reportedly involved in large scale narcotics trafficking and alien smuggling. His rap sheet included arrests for federal liquor law violations and suspicion of a felony. His date of death is unknown.
Ad blocker interference detected!
Wikia is a free-to-use site that makes money from advertising. We have a modified experience for viewers using ad blockers

Wikia is not accessible if you've made further modifications. Remove the custom ad blocker rule(s) and the page will load as expected.