Ozvaldo Altobello is a longstanding ally of the Corleone family. He was the consigliere of Phillip and Rico Tattaglia from 1955 to 1961 after the death of Freddie Nobile. He also became the Don of the Tattaglia family, since 1962, after Rico stepped down due to ill health, passing away the next year.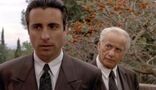 Altobello was an old friend of Vito Corleone, and he became godfather to Vito's daughter Connie. Altobello's ascension to the position of Don was considered surprising by many, as one of the Family's numerous pimps or hoodlums were expected to take the position of power. As soon as he became Don, Altobello made his Family a strong ally of the Corleones, leaving them without an enemy on the Commission, save for the Barzini Don, Paulie Fortunato. He was seen as an 'olive branch' extended towards the Corleones. At the Commission meeting of 1964, Altobello vouched for Publio Santini to join Frank Greco's syndicate. Altobello was alos successful as he lacked the vices of Don Phillip Tattaglia, whose distracted interest with women helped bring about his death in 1955. By 1979, Altobello had become a close friend and ally of Michael Corleone. Altobello even donated one million dollars so he could be a part of the Vito Corleone Foundation. Michael became suspicious of Altobello's motives after Joey Zasa, the Corleone family's chief rival, orchestrated an assassination attempt on Michael and Vincent that ended up killing other associates, but sparing Altobello and the Corleones present. Michael then instructs his nephew Vincent to go to Altobello and pledge his allegiance to him, without promising to betray Michael. While in Sicily, Altobello enlists the services of Mosca and conspires to kill Michael at the Teatro Massimo in Palermo when Anthony Corleone was set to debut in Cavalleria Rusticana. Since Michael did not lose all respect for Don Altobello, it is assumed that he supplied Connie with poisoned cannoli that Altobello was to receive on his birthday. Sure enough, Altobello indulges in them while sitting alone at the opera house. Equipped with binoculars, Connie spots Altobello to ensure his quick and easy death.
Ad blocker interference detected!
Wikia is a free-to-use site that makes money from advertising. We have a modified experience for viewers using ad blockers

Wikia is not accessible if you've made further modifications. Remove the custom ad blocker rule(s) and the page will load as expected.