Michigan is a Midwestern state of the United States of America. It was named after Lake Michigan, whose name is a French adaptation of the Ojibwe term mishigami, meaning "large water" or "large lake". Michigan is the eighth most populous state in the United States. It has the longest freshwater shoreline in the world, bounded by four of the five Great Lakes, plus Lake Saint Clair.[5] In 2005, Michigan ranked third for the number of registered recreational boats, behind California and Florida. Michigan has 12,000 inland lakes. A person is never more than six miles (10 km) from a natural water source, or more than 87.2 miles (137 km) from Great Lakes coastline. The state is the only state to consist entirely of two peninsulas. The Lower Peninsula of Michigan, to which the name Michigan was originally applied, is sometimes dubbed "the mitten," owing to its shape. When asked where in Michigan one comes from, a resident of the Lower Peninsula may often point to the corresponding part of his or her hand. The Upper Peninsula (often referred to as The U.P.) is separated from the Lower Peninsula by the Straits of Mackinac, a five-mile (8 km)-wide channel that joins Lake Huron to Lake Michigan. The Upper Peninsula (whose residents are often called "Yoopers") is economically important for tourism and natural resources. The Upper and Lower Peninsulas are connected by the five-mile (8 km)-long Mackinac Bridge, which is the third longest suspension bridge between anchorages in the world.[7] The bridge has given rise to the nickname of "trolls" for residents of the Lower Peninsula, because they live "under" (south of) the bridge.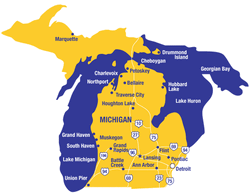 Ad blocker interference detected!
Wikia is a free-to-use site that makes money from advertising. We have a modified experience for viewers using ad blockers

Wikia is not accessible if you've made further modifications. Remove the custom ad blocker rule(s) and the page will load as expected.