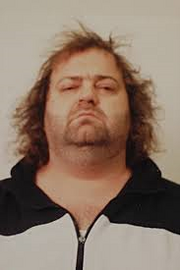 Michael "Fat Mike" or "The Large Guy" Sarno (Born 1958) is a high ranking member and former acting boss of the Chicago Outfit. He was the reputed boss of the Cicero crew in Chicago. He is currently serving 25 year sentence in prison.
Early Crimes
Edit
In January 1992, Sarno was convicted on charges of racketeering and running an illegal gambling operation, and on August 18, 1993, Sarno was sentenced to 61⁄2 years in prison for those crimes
On January 22, 1993, Sarno was one of seven individuals indicted by federal officials in a separate indictment on additional extortion charges. Sarno was permitted to remain free pending a $100,000 cash and real estate bond posted in May 1990. Sarno was convicted of those charges and in 1996 was sentenced to 27 months in federal prison—18 months of which were to be served concurrently with his earlier sentence.
Sarno was released from federal prison on October 20, 1999.
Acting Boss
Edit
When acting boss James Marcello was sent to prison in 2003, he installed Sarno as the new acting boss of the Outfit.
Berwyn, Illinois Bombing
Edit
In 2003 C&S Coin Amusements (a video gambling and vending machine business) was firebombed. Federal authorities believed that the business was attacked because it was competing against the mob's illegal video poker trade. The FBI discovered that the Chicago Outfit formed an alliance with the Outlaws motorcycle gang to carry out this task.
In July 2009 Sarno was indicted in the 2003 bombing of C&S Coin Operated Amusements. Federal prosecutors have alleged that Sarno was also part of a mob-connected ring that ran jewelry heists, intimidated witnesses and was protected by suburban police officers.
In February 2012, Sarno was sentenced to 25 years in prison on racketeering charges related to his running the illegal gambling ring and playing a role in the 2003 pipe bombing
Zizzo Disappearance
Edit
In 2006 Chicago Outfit mob boss Anthony Zizzo (Little Tony) disappeared. It is widely believed that Sarno had Zizzo killed because he was feuding with him over video poker rackets.
References http://abc7chicago.com/archive/7775400/
http://bitterqueen.typepad.com/friends_of_ours/michael-sarno/
https://stopillinoiscorruption.wordpress.com/2012/07/18/sarno-3/
Ad blocker interference detected!
Wikia is a free-to-use site that makes money from advertising. We have a modified experience for viewers using ad blockers

Wikia is not accessible if you've made further modifications. Remove the custom ad blocker rule(s) and the page will load as expected.