Marty Parisi (1919-1979) is the Don of the New Orleans crime family.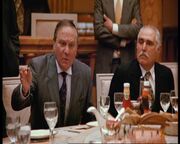 A Don from the American south, Parisi had a seat on the Commission following the death of Carlo Tramonti.He isn't also one of the dons that got killed in the Joey Zasa's helicopter attack which led him and many other dons dead in 1979, shortly after they had become exceedingly wealthy from having their shares in Michael Corleone's casino sold.
Ad blocker interference detected!
Wikia is a free-to-use site that makes money from advertising. We have a modified experience for viewers using ad blockers

Wikia is not accessible if you've made further modifications. Remove the custom ad blocker rule(s) and the page will load as expected.