Louis Guss (born January 4, 1918 – September 29, 2008) was an American character actor with a long line of screen credits, specializing in blue-collar ethnic roles. He was born in New York City. He has a family that lives in Pennsylvania. He is most famous for his role as Don Zaluchi in the 1972 film The Godfather(Film).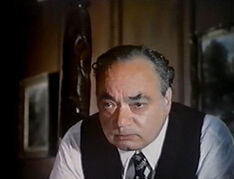 His last role was in Sidney Lumet's Find Me Guilty in 2006.
He died at the age of 90 in 2008 from natural causes. He is survived by his wife and son.
External links
Edit
Ad blocker interference detected!
Wikia is a free-to-use site that makes money from advertising. We have a modified experience for viewers using ad blockers

Wikia is not accessible if you've made further modifications. Remove the custom ad blocker rule(s) and the page will load as expected.