Lorenzo Allegro was an affable yet effective Cuneo Associate.
Known to have former ties with the Corleone Family, Allegro was sent by the Cuneos to manage J. Sizzle's, which was edging dangerously close to changing hands. Allegro remained and efficient racket boss, yet he could not resist being bought out by Aldo Trapani in 1951.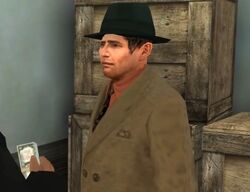 Ad blocker interference detected!
Wikia is a free-to-use site that makes money from advertising. We have a modified experience for viewers using ad blockers

Wikia is not accessible if you've made further modifications. Remove the custom ad blocker rule(s) and the page will load as expected.