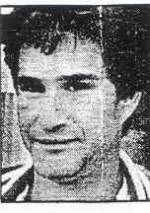 Loren Piccarreto (born April 17, 1951) was the Underboss of the Rochester crime family and son of Consigliere Rene Piccarreto.
Biography
Edit
In 1984, Piccarreto's father, Rene, and other Rochester mobsters were sentenced to more than 20 years in prison and Loren was installed as an administrative member of the family as Acting underboss with Angelo Amico serving as acting boss for the imprisoned Samuel Russotti. He was believed to be managing a vast gambling operation and also oversaw his fathers rackets once he was imprisoned. Piccarreto had connections to Teamsters local 398 and claimed to be employed in the construction field. In 1987, he was indicted along with other mobsters on RICO act violations. In 1989 Piccarreto was found guilty and sentenced to five years in prison and was released in 1994. He reportedly still resides in the Rochester, New York area. It is unknown if he is still involved in organized crime as the Rochester family's structure and membership was severely damaged by intra-family feuding and government prosecution.
Ad blocker interference detected!
Wikia is a free-to-use site that makes money from advertising. We have a modified experience for viewers using ad blockers

Wikia is not accessible if you've made further modifications. Remove the custom ad blocker rule(s) and the page will load as expected.