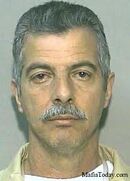 Joseph "Mousie" Massimino (April 23, 1950 South Philadelphia) is allegedly the current Underboss of the Philadelphia crime family.
Biography
Edit
Joseph C. Massimino has been identified by federal and state law enforcement as the Underboss of the Philadelphia crime family. Between 1968 and 2012, Massimino had been arrested 34 times for numerous offenses, including assault and battery, larceny, narcotic charges, loansharking, and many gambling offenses. In February 2001, Massimino was indicted by a New Jersey State Grand Jury with several other defendants with various crimes including racketeering, loansharking, promoting gambling, and conspiracy.
In 2011 U.S. District Court Judge Felipe Restrepo said that the 61-year-old would be a threat to the community if released. Massimino has spent more than 20 years of his adult life in prison.
Ad blocker interference detected!
Wikia is a free-to-use site that makes money from advertising. We have a modified experience for viewers using ad blockers

Wikia is not accessible if you've made further modifications. Remove the custom ad blocker rule(s) and the page will load as expected.