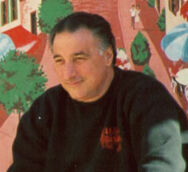 Joseph Anthony "Uncle Joe" Ligambi (born August 9, 1939) is an Italian-American mobster and current boss of the Philadelphia crime family. Ligambi is known among law enforcement circles to have a more "old school" approach, in sharp contrast to the former boss, Joseph Merlino's, flamboyant, high-profile style. Ligambi is credited by the Philadelphia Police Department's Criminal Intelligence Unit to be "quietly bringing stability and efficiency back to the troubled Philadelphia-South Jersey branch of La Cosa Nostra." Ligambi had a no-show job with Top Job carting run by fellow Philadelphia crime family soldier, Mauro Goffredo.
The New York Five Families have been pleased with Ligambi and his approach, as well as his ability to turn the Philadelphia crime family from near extinction to a quietly and secretly powerful criminal organization that may now consist of 3,000 made men. At its peak, the Philadelphia crime family had roughly 100,000 made men, and over 250,000 criminal associates. He is also the uncle of current Philadelphia crime family consigliere George Borgesi. FBI Agents has stated that "Ligambi is determined to bring back the Philadelphia crime family's enormous power, size, influence and reach that they had for nearly 70 years. Ligambi is also determined to bring back the family's glory days, which he has not been successful with that yet, however, Ligambi has made the Philadelphia crime family much more bigger in size and strength, and he has helped the Philadelphia mob regain a lot of their power and political connections and government contacts. So as long as Ligambi is the boss, the Philadelphia mob will get much more stronger, and continue to grow more in power and size."
Childhood
Edit
Ligambi was born in the South Philadelphia section of Philadelphia, Pennsylvania to strict "old world" parents. His father was a cab driver. He attended South Philadelphia High School before dropping out his junior year to join the United States Air Force, where he eventually earned his high school diploma. He stands at 5' 8" and weighs 185 pounds with black-gray hair and brown eyes.
Criminal career
Edit
Unlike many other gangsters who started their careers in crime as teenagers or young adults, Ligambi didn't have a criminal record before age 32 when he was arrested for cigarette smuggling. In late 1970s, he started to associate himself with mobsters, namely Salvatore Merlino and Lawrence Merlino. During that time, Ligambi gained a reputation as an expert in sports handicapping, particularly for football. He would later manage and sponsor a minor league softball team from Gino's Cafe.
Ligambi became a made man in the Philadelphia crime family in 1986, at the age of 47, after participating in the 1985 murder of a wealthy gambler Frank D'Alfonso. At the time, the Philadelphia crime family was being run by the extremely powerful, but extremely violent, mobster Nicodemo Scarfo, who seized control after the death of longtime Philadelphia mafia Angelo Bruno, and a series of other deaths, including that of Scarfo's longtime friend Philip Testa, Bruno's underboss. At the time, Ligambi was an associate of the Merlino brothers salvatore and lawrence, two close friends of boss Nicodemo Scarfo.
In 1987 Ligambi was arrested, alongside then boss Nicodemo Scarfo and several others, for the murder of D'Alfonso. On April 5, 1989, Ligambi was convicted of the murder. After serving almost 10 years in prison, the conviction was overturned and a new trial was ordered. Ligambi was found not guilty while the other defendants were acquitted. Ligambi was the only one to be released since the other defendants were still serving time for racketeering. In 1997, Ligambi returned to South Philadelphia. Upon his return, Ligambi was viewed as one of the few soldiers left from the Scarfo era, an era which saw the Philadelphia mob gain enormous power and wealth, despite its violent tendencies.
After the arrest of Joseph Merlino in 1999, Ligambi was chosen to take over as the acting boss of the family. In 2001, Merlino was sentenced to 14 years and was still facing a murder indictment. As a result of Merlino's conviction and mounting legal problems, Ligambi was named the new official boss of the family in 2001. Since taking over he has remained in the shadows, rarely being mentioned in the media, while taking a much less "trigger-happy" approach to running a Mafia family. Ligambi had been able to operate as a free man for 11 years which is seen as an amazing accomplishment for a present time Cosa Nostra boss. He has done so well that the New York families have taken notice, and it is unknown what role Joseph Merlino will have once he is off of parole.
2011 Arrest and Trial
Edit
On May 23, 2011, Ligambi was arrested on racketeering charges in an FBI sweep. It was revealed after his arrest that Ligambi was never official boss of the Philadelphia crime family but was in fact a cover boss like Ralph Natale. He and Natale were both appointed as acting bosses to take the heat off the real boss Joseph Merlino.
His alleged Underboss, enforcers and others who were arrested with him in 2011 were convicted in 2013. On January 28, 2014, Ligambi was freed after two trials in which two juries deadlocked on the central racketeering charge, while acquitting Ligambi of six lesser counts and the judge dismissed the remaining counts. His release came after the Justice Department decided not to take Ligambi to trial a third time.