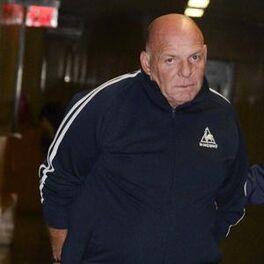 Joseph "Joe the Blond" Giordano (Born 1949- Died 2013) is a former capo in the Gambino Crime Family. He was nicknamed for the color of his locks. He is the nephew of former Gambino underboss Joseph Armone, and his brother was former Gambino capo John Giordano (Handsome Jack). He was also one of John Gotti's closest associates. Giordano served on the Gambinos' ruling commission from 2009-2011 that oversaw various construction rackets.
Criminal Career
Edit
Officials claim that he has a criminal record stretching back through the '80s and early '90s.
As rising young gangsters, the two brothers, "Handsome Jack" and "Joe the Blond," hung out together at DeRobertis Pasticceria and Caffe in the East Village, allegedly learning the business at the knee of their uncle, Gotti underboss Armone, who used the bakery shop as a headquarters.
In September 25, 2012 Giordano was charged with grand larceny for allegedly extorting $50,000 from a construction-company official by threatening, punching, slapping and kicking the poor victim until he couldn't refuse. He was caught on video extorting his victim through actual and threatened violence. He pleaded not guilty.
In March 2013, he pleaded guilty to the $50,000 extortion plot and was sentenced to one to three years in prison.
In July 2014 Los Angeles based Gambino soldier Joe Isgro was arrested for his involvement in a sports book ring. It was discovered that Isgro conspired with Giordano to set up an operation that used offshore wire rooms in Costa Rica, under the names Elite and Cristal, and took bets from people in the United States.
On October 1, 2013 Giordano died of lung cancer while in an Albany hospital prison ward. He was 64.
References
Edit
http://nypost.com/2012/09/25/reputed-gambino-captain-indicted-on-50g-extortion-charge/
http://www.nydailynews.com/news/crime/gambino-capo-dies-cancer-prison-article-1.1472352
Ad blocker interference detected!
Wikia is a free-to-use site that makes money from advertising. We have a modified experience for viewers using ad blockers

Wikia is not accessible if you've made further modifications. Remove the custom ad blocker rule(s) and the page will load as expected.