Joseph Aiuppa
Talk

0
1,728pages on
this wiki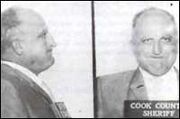 Joseph John Aiuppa (pronounced I-U-PA) (December 1, 1907 – February 22, 1997), also known as "Doves," "Mourning Doves," "O'Brien," or "Joey Doves," was a Chicago mobster who became a leader of the Chicago Outfit criminal organization. Aiuppa got his "Doves" nickname after being arrested for unlawfully transporting mourning doves across state lines.
Early years
During the 1920s, Aiuppa rose through the ranks of the Outfit, operating several gambling establishments in Cicero, Illinois. These clubs included bookmaking establishments and underground casinos with secret entrances. Aiuppa eventually became one of the top three leaders in the Outfit, working out of the spotlight under bosses such as Sam "Momo" Giancana and Tony Accardo.
Giancana murder
In June 1975, Aiuppa allegedly participated in the Outfit decision to kill Giancana. The Federal Bureau of Investigation (FBI) suspected that the Outfit killed Giancana because he refused to share his offshore gambling profits from Mexico. Other Giancana allies, such as
Johnny Roselli
, were also killed around the time of Giancana's death.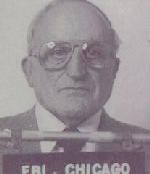 Santo Trafficante Jr. may have request the Giancana hit because he feared Giancana would testify about Mafia and Central Intelligence Agency (CIA) plots to kill Fidel Castro. If so, Trafficante, probably got permission to kill Giancana from Chicago bosses Tony Accardo and Joseph Aiuppa. Some crime figures claimed that the CIA killed Giancana due to the failed Castro assassination plots, but there is no evidence to substantiate those claims other than reports in a documentary saying the authorities watching over him were "called off" long enough to allow an assassin to kill Giancana.
Conviction and retaliation
In 1986, Aiuppa was convicted of skimming profits from Las Vegas casinos and received 28 years in prison. In June 1986, Tony "The Ant" Spilotro and his brother Michael were found beaten and buried alive in a cornfield five miles away from Aiuppa property near Morocco, Indiana. It was commonly assumed that the Outfit ordered Tony Spilotro's murder because of his misbehavior in Las Vegas. However, it was also rumored that Aiuppa ordered the executions because he blamed Spilotro for the skim.