Johnny Tightlips, voiced by Hank Azaria, is a member of the Mafia and associate of Fat Tony. He says very little, which spares him from accusations of being a "squealer," but his reticence tends to be unhelpful to himself or others. In Insane Clown Poppy, there is a shoot-out in Fat Tony's mansion and Tightlips is shot by accident. When asked where he's injured, he says " I ain't sayin' nuthin'!", and when asked what to tell the doctor he says, "Tell 'em to go suck a lemon." He is a bad member of the team who is unsporting and doesn't help. It is proved that Maggie is a better Marksman than Johnny Tightlips.Johnny Tightlips is a reference to Frank "Tight Lips" Gusenberg, who was shot down in the real-life St. Valentine's Day Massacre in Chicago and replied "nobody shot me" while dying.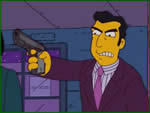 Ad blocker interference detected!
Wikia is a free-to-use site that makes money from advertising. We have a modified experience for viewers using ad blockers

Wikia is not accessible if you've made further modifications. Remove the custom ad blocker rule(s) and the page will load as expected.