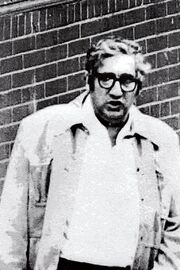 John "Big John" Fecarotta was a hit man and loan collector for the Chicago Outfit.
Criminal career
Edit
Fecarotta claimed he made a living as a gambler, winning up to $25,000 a year betting on horse races. He never had a credit card, never declared his racetrack winnings on income tax returns and paid cash for everything, including his Mercedes.
Fecarotta was described as having a 25-year relationship with North Side gambling boss Ken Eto, for whom he once worked as a "watchman" trying to catch cheaters.
He was allegedly part of a hit team sent to Las Vegas to take care of the two Spilotro brothers. After the murders, he allegedly botched the burial of the two brothers, Anthony and Michael, who were beaten and strangled and buried in a very shallow grave, which resulted in their bodies being discovered a couple of days later, for this Fecarotta and other transgressions Fecarotta became a marked man.
Nicholas Calabrese, brother of fellow Outfit member Frank Calabrese, Sr., was allegedly told to whack Fecarotta. They planned a ruse, telling Fecarotta that he and Nick were going to bomb a dentist's office. But when Nick reached into the bag, pretending to light the fuse of the bomb, he pulled out a gun instead. A struggle took place in the car and when Nick shot Fecarotta, he ended up shooting himself at the same time. Fecarotta took off from the car running and Nick knew that if he didn't finish the job he would be killed. He chased him to the back door of a bingo hall and shot him in the back of the head. For years Fecarotta's murder remained unsolved.
On April 25, 2005, federal prosecutors indicted 12 Chicago Outfit figures—including Calabrese—and two former police officers on charges of murder, illegal gambling and loan sharking. Dubbed, "Operation Family Secrets," the probe that led up to the indictments had relied heavily on Calabrese's cooperation. Newspapers reported that Calabrese had been confronted with DNA evidence implicating him in the 1986 mob hit of mob enforcer John Fecarotta, prompting Calabrese to cooperate with law enforcement in the probe.
Popular Culture
Edit
In the summer of 2012 Renee Russo, niece of Big John starred on VH1's Mob Wives Chicago. The nuclear family of John claimed their cousin was a fraud and denied their father's involvement in organized crime to CBS Chicago.
Ad blocker interference detected!
Wikia is a free-to-use site that makes money from advertising. We have a modified experience for viewers using ad blockers

Wikia is not accessible if you've made further modifications. Remove the custom ad blocker rule(s) and the page will load as expected.