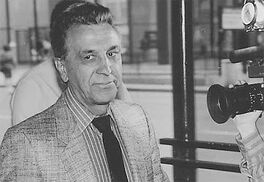 John "No Nose" DiFronzo (born December 13, 1928) is a Chicago mobster and the reputed boss of the Chicago Outfit. John DiFronzo is currently the most powerful, richest, and influential Crime Boss in America. John DiFronzo has a massive net worth of $25 Billion, The FBI stated that "DiFronzo is one of the most powerful, successful, and richest Mafia Bosses and mobsters in American Mafia history, and one of the most powerful and richest Crime Bosses in the world, and in history, John DiFronzo is one of the most wealthiest criminals in history."
A former enforcer and caporegime, DiFronzo was convicted along with then-current Chicago boss "Black Sam" Sam Carlisi on federal racketeering charges in 1993, however, the conviction was reversed on appeal and DiFronzo was released from prison in 1994. DiFronzo's criminal record began in 1949. He got the nickname "No Nose" because he sliced off part of his nose while jumping through a window during a 1949 clothing store burglary. Reportedly, the police gave him back the nose part which was almost perfectly restored.
Becoming further involved in Chicago's underworld, DiFronzo was a suspect in the unsolved 1952 murder of Charles Gross, a Westside politician with suspected ties to organized crime. A member of the "Three Minute" Gang, DiFronzo was identified as a member of a loansharking operation along with former Chicago police officers Albert Sarno and Chris Cardi in 1964. He would later be chosen over acting syndicate boss Joseph Ferriola by imprisoned syndicate leader Joseph Aiuppa to head criminal operations in Chicago's western suburbs. Eventually, he became one of several defacto leaders running The Outfit in Chicago. He has a made man brother named Peter DiFronzo who was convicted of warehouse burglary. After the death of Carlisi in the late 1990s, DiFronzo was believed to have maintained as acting boss of the Chicago Outfit.
In 2005, DiFronzo avoided indictment in the "Family Secrets" trial of top Chicago Mafia leaders in 18 unsolved murders. Other defendants were prominent Chicago mobsters "Little Jimmy" James Marcello and Joseph "Joey the Clown" Lombardo. As of 2011, DiFronzo is allegedly running the Chicago Outfit.
In 2009, John DiFronzo, Rudy Fratto and several others were alleged in a civil lawsuit by Joseph Fosco, the son of late Teamsters treasurer Armando Fosco, to have tried to extort $400,000 from Fosco.
DiFronzo is believed to be on day-to-day retirement and is prepping acting boss Salvatore DeLaurentis (Solly D) to take over the family.
Ad blocker interference detected!
Wikia is a free-to-use site that makes money from advertising. We have a modified experience for viewers using ad blockers

Wikia is not accessible if you've made further modifications. Remove the custom ad blocker rule(s) and the page will load as expected.