Joseph Viterelli (March 10, 1937 – January 28, 2004) was an American character actor most famous for his role as "Jelly" in the 1999 comedy film
Analyze This
and its 2002 sequel
Analyze That
. Other roles invariably displayed him as a mobster, e.g. in The Firm, See Spot Run, Mickey Blue Eyes and Heaven's Prisoners among many other films.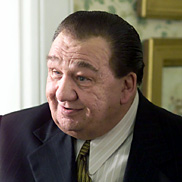 Viterelli was born to Italian immigrants in the Bronx, New York. Before Viterelli became an actor, he had befriended director Leo Penn (actor Sean Penn's father), who initially tried but failed to persuade Viterelli to pursue acting because of his unique and typically Italian looks. Some years later, Sean Penn approached Viterelli and asked him to try out for a part as a favor; Viterelli did and went on to appear in State of Grace and then in over 40 other movies.
Viterelli died on January 28, 2004, aged 66, in Las Vegas, Nevada due to a severe stomach hemorrhage, a complication of just-completed heart surgery. His last film role was as "Jelly" in Harold Ramis's Analyze That.; his final acting credit was as a mobster in a 2004 Super Bowl TV commercial ad for Staples, Inc.
External links
Edit
Ad blocker interference detected!
Wikia is a free-to-use site that makes money from advertising. We have a modified experience for viewers using ad blockers

Wikia is not accessible if you've made further modifications. Remove the custom ad blocker rule(s) and the page will load as expected.