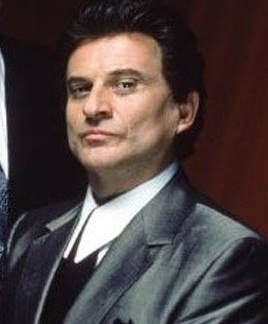 Joseph Frank "Joe" Pesci (born February 9, 1943) is an Academy Award-winning American actor, comedian, singer and musician. He is often typecast as a violent mobster/heavies or a funny person.
Pesci played the role of Tommy DeVito, a character in the blockbuster 1990 Martin Scorcese film GoodFellas. The role was based on the real life criminal figure Tommy DeSimone, who was an associate of the Lucchese crime family in New York and a real life friend and crime partner Henry Hill, and earned Pesci an Academy Award for Best Supporting Actor in a Drama.
Joe is also noted for his role in the 1980 Academy Award winning film and Jake LaMotta life-based biopic Raging Bull, where he also acted opposite Robert DeNiro, whom he also co-starred with in GoodFellas, along with Ray Liotta and Paul Sorvino. Another role of note is the part of Vincent LaGuardia "Vinny" Gambini in the 1992 film My Cousin Vinny.
External links
Edit
Ad blocker interference detected!
Wikia is a free-to-use site that makes money from advertising. We have a modified experience for viewers using ad blockers

Wikia is not accessible if you've made further modifications. Remove the custom ad blocker rule(s) and the page will load as expected.