Dr. Dan Grimaldi is an American actor who is known for his roles as twins Philly and Patsy Parisi on the HBO TV series, The Sopranos. In addition to his role on The Sopranos, he has also had some minor film credits, most notably as mother-fixated pyromaniac Donald 'Donny' Kohler in the 1980 slasher film Don't Go in the House, and some guest TV appearances, including several episodes on Law & Order. He also voices 'Frank' for the bestselling computer game Mafia.
Despite the fact that Grimaldi is often cast in "tough-guy" roles, he is in fact highly educated. He holds a bachelor's degree in mathematics from Fordham University, a master's degree in operations research from New York University, and a Ph.D. in data processing from the City University of New York, and teaches in the Department of Mathematics and Computer Science at Kingsborough Community College in Brooklyn, New York.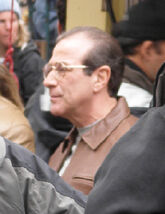 Ad blocker interference detected!
Wikia is a free-to-use site that makes money from advertising. We have a modified experience for viewers using ad blockers

Wikia is not accessible if you've made further modifications. Remove the custom ad blocker rule(s) and the page will load as expected.