Hoffa is a 1992 biographical film based on the life of Teamsters Union leader Jimmy Hoffa. Most of the story is told in flashbacks before ending with Hoffa's mysterious disappearance. Almost all of the film was shot in and around Pittsburgh with the city's landmarks (such as Gateway Center in the "Idlewild Airport" scene) serving as backdrops for the various locales in the film. Jack Nicholson plays James R. "Jimmy" Hoffa, with Danny DeVito playing Robert "Bobby" Ciaro as well as directing the movie. The Ciaro character was actually an amalgamation of several Hoffa associates over the years. The film also stars John C. Reilly, Robert Prosky, Kevin Anderson, Armand Assante, and J. T. Walsh. The screenplay is written by David Mamet. The original music score is composed by David Newman. The film is marketed with the tagline "The man who was willing to pay the price for power."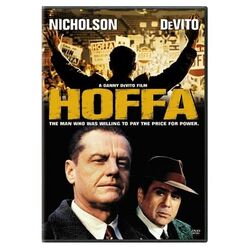 Ad blocker interference detected!
Wikia is a free-to-use site that makes money from advertising. We have a modified experience for viewers using ad blockers

Wikia is not accessible if you've made further modifications. Remove the custom ad blocker rule(s) and the page will load as expected.