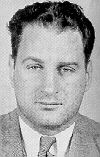 Harry Millman (born 1911- died Nov. 25, 1937) was a violent Detroit mobster and one of the most prominent members of The Purple Gang.
Biography
Edit
Millman was born in Wayne County, Detroit, Michigan. He was part of a younger generation of Jewish youths in Detroit's North End who sought to emulate the older, established members of the Purple Gang. Millman was known as a handsome, tough, hard drinking young man who rose to prominence in the early 1930's. He had a pathological hatred for Italian criminals, constantly aggravating the city's Mafia leadership. After an altercation with Detroit Partnership mobster "Joe Scarface" Joseph Bommarito, an attempt was made on Millman's life that resulted in his car being blown up in August of 1937. Both the Mafia and the leadership of the Purple Gang sought to remove the volatile Millman from the scene. He was shot to death in the early morning hours of November 25, 1937 at Boesky's, a restaurant-deli located at Hazelwood and 12th Streets. His killers have long rumored to have been Harry Strauss and "Happy" Harry Maione of Brooklyn's Murder, Inc.
Ad blocker interference detected!
Wikia is a free-to-use site that makes money from advertising. We have a modified experience for viewers using ad blockers

Wikia is not accessible if you've made further modifications. Remove the custom ad blocker rule(s) and the page will load as expected.