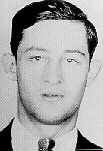 Harry Keywell (born December 8, 1910 - died August 30, 1997) was a convicted member of Detroit's infamous Purple Gang, which terrorized the city of Detroit during Prohibition. Chicago Police questioned him about the infamous St. Valentine's Day Massacre in February of 1929, on the suspicion that Keywell acted as a lookout for the killers, however Keywell had a cast-iron alibi for the day.
After his arrest for involvement in the Collingwood Manor Massacre on September 16, 1931, Keywell was sentenced to life in prison at Marquette, Michigan and was eventually paroled at the age of 54 on October 21, 1965. He had a spotless prison record for 34 years before his life sentence was commuted. Because of the involvement of his brother, Phil Keywell, he was released early for good behavior. Harry married Sarah Keywell (nee Gold), and lived out his days as a productive member of society and family man, until his death of Alzheimer's disease on August 30, 1997.
Ad blocker interference detected!
Wikia is a free-to-use site that makes money from advertising. We have a modified experience for viewers using ad blockers

Wikia is not accessible if you've made further modifications. Remove the custom ad blocker rule(s) and the page will load as expected.