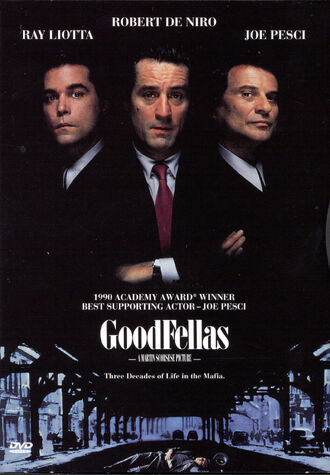 Goodfellas (also stylized GoodFellas) is an Academy Award winning 1990 crime drama film directed by Martin Scorsese, based on the book Wiseguy by Nicholas Pileggi, the true story of Henry Hill. The film follows the rise and fall of three gangsters, spanning three decades.
Scorsese originally intended to direct Goodfellas before The Last Temptation of Christ, but when funds materialized to make Last Temptation, he postponed what was then known as Wise Guy. The title of Pileggi's book had already been used for a TV series and for Brian De Palma's 1986 comedy Wise Guys, so Pileggi and Scorsese changed the name of their film to Goodfellas.
To prepare for their roles in the film, Robert De Niro, Joe Pesci, and Ray Liotta talked often with Pileggi, who shared with the actors research material that had been left over from writing the book. According to Joe Pesci, improvisation and ad-libbing came out of rehearsals where Scorsese gave the actors freedom to do whatever they wanted. The director made transcripts of these sessions, took the lines that the actors came up with that he liked best, and put them into a revised script the cast worked from during principal photography. Goodfellas performed well at the box office, grossing USD $46.8 million domestically, well above its $25 million budget; it received mostly strong positive reviews from critics. The film was nominated for six Academy Awards but only won one for Joe Pesci in the Best Actor in a Supporting Role category. Scorsese's film won three awards from the British Academy of Film and Television Arts and was named best film of the year by the New York Film Critics Circle, the Los Angeles Film Critics Association, and the National Society of Film Critics.
Notable Quotes
Edit
"As far back as I can remember I always wanted to be a gangster." - Henry Hill
"You know, we always called each other goodfellas. Like you'd say to somebody: You're gonna like this guy, he's all right. He's a goodfella. He's one of us. You understand?" - Henry Hill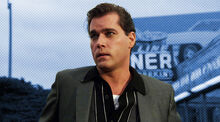 "Never rat on your friends and always keep your mouth shut." -Jimmy Conway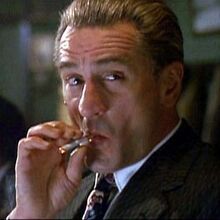 "One day some of the kids from the neighborhood carried my mother's groceries all the way home. You know why? It was outta respect." - Henry Hill
"Now go home and get your fucking shine box!" - Billy Bats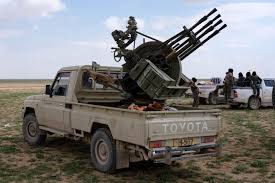 In the opening scene, main character Henry Hill (Ray Liotta) admits, "As far back as I can remember, I always wanted to be a gangster," referring to his idolizing the Lucchese crime family gangsters in his blue-collar, predominantly Italian neighborhood in East New York, Brooklyn in the 1950's. Feeling the connection of being a part of something, Henry quits school and goes to work for them. His father, knowing the true nature of the Mafia, tries to stop Henry after learning of his truancy, but the gangsters ensure that the father no longer hears from the school by warning the local postal carrier never to deliver any more letters from the school to Henry's house.
Henry is soon taken under the wing of the local mob captain, Paul "Paulie" Cicero (Paul Sorvino) (based on the actual Lucchese mobster Paul Vario) and Cicero's close Irish associate Jimmy Conway (Robert DeNiro) (based on Jimmy Burke). They help to cultivate Henry's criminal career, and introduce Henry to the entire network of Paulie's crime syndicate. + "One day some of the kids from the neighborhood carried my mother's groceries all the way home. You know why? It was outta respect." - Henry Hill − Henry and his friends soon become successful, daring and dangerous. Conway loves hijacking trucks, and Tommy DeVito (Joe Pesci in his acclaimed Academy Award-winning performance based on Thomas DeSimone) is an aggressive psychopath with a hair-trigger temper. Henry soon commits the Air France Robbery and it makes his début. Enjoying the perks their criminal activities have provided them, the friends hang out most nights at the Copacabana night club with countless women. Around this time, Henry meets and soon marries a no-nonsense Jewish girl from the Five Towns named Karen (Lorraine Bracco). Karen is both troubled and turned on by Henry's criminal activities.
Violence is prevalent throughout the movie. With Jimmy's help, Tommy brutally beats Billy Batts (Frank Vincent), a prominent mobster of the Gambino crime family on June 11, 1970 in Henry's restaurant, for an insult Batts made about Tommy when he used to be a shoeshine boy. However, Billy was a made man; he is untouchable by those who are not made. Realizing that this is an offense that can get all of them killed, they take the body upstate, where they find Batts still alive in the trunk of Henry's car. Tommy angrily takes a knife he had borrowed from his mother's house and violently stabs him multiple times. Jimmy then finishes Batts off by shooting him. Out of fear that the body would be discovered during imminent land development at the burial spot, Henry and his friends return to exhume and move the body about six months later.
Tommy's quick temper is shown on other occasions, even within their crew. He attempts one night to provoke a young helper named Michael "Spider" Gianco (played by at-the-time unknown, Michael Imperioli). Tommy takes out his pistol and gratuitously shoots Spider in the foot. Shortly thereafter, as Spider is recovering from his wound, Tommy again provokes him; however, Spider surprisingly stands up to Tommy. After Jimmy razzes Tommy regarding the young man's gumption, Tommy instantly shoots the young man to death.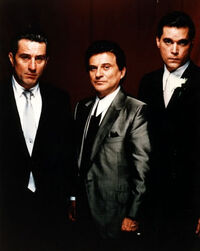 As he grew up it never ended. Henry was doing all kinds of crime. Extortion, theft and many other crimes were normal for him.
Violence also begins to invade Henry's home life. He begins seeing a mistress named Janice Rossi (Gina Mastrogiacomo), and Karen soon finds out about the affair. She wakes him up one night, sitting on top of him with one of his guns pointed at his face, and angrily asks him whether he loves Rossi. A shocked yet confident Henry repeatedly tells Karen that he only loves his wife, until Karen breaks into tears and Henry violently subdues her onto the carpet floor. He in turn threatens her with the gun, saying that he already has enough problems to worry about, such as the possibility of being killed on the streets.

Soon it gets harder to evade the law. Henry and Jimmy are sent to get money from an indebted Florida gambler in Tampa, and they hang him in the lion's den at a public zoo to intimidate him further after a beating doesn't sway the man. Henry, Jimmy, the gambler and most of the crew (except for Tommy) are then arrested, thanks to the gambler's sister, who is a typist for the FBI. However, prison for the mobsters proves to be not that different than having their own small house with free food and drinks. Henry makes drug deals in prison to support his family on the outside, and when he gets out, the crew commits the infamous Lufthansa Heist at JFK airport.
Even after the successful heist, things begin to shake up even more. The crewmembers buy lavish gifts for their girlfriends, wives and families from their share of the stolen money, flaunting them in public. Out of fear of being traced, Jimmy orders anyone involved in the heist to be killed one by one, with the exception of Henry and Tommy. In the meantime, Henry further establishes himself in the drug trade after seeing its high value, and convinces Tommy and Jimmy to join him.
Tommy is then deceived into thinking that he's going to be "made," or become a prominent member of the Mafia. He is instead righteously executed by the Gambino crime family for Billy Batts' murder. Henry and Jimmy can't become "made men", because of Henry's half, and Jimmy's full, Irish heritage.
On Sunday, May 11, 1980, Henry needs to make a big criminal deal with associates in Atlanta. He drives all over town, busy getting his brother from the hospital and cooking food for the family, and is a nervous wreck from lack of sleep and the amount of cocaine he has taken. He is finally caught by narc agents and is sent to jail. When he returns home, Karen tells him that she has flushed what amounted to sixty-thousand dollars worth of cocaine down the toilet to prevent the FBI agents from finding it during their raid. Henry and his family are left virtually penniless.
Henry soon is excluded by Paulie for lying to him about his involvement in the drug trade, and becomes a mole for the FBI while in the Witness Protection Program to protect himself and his family. Henry is motivated to turn state's evidence when he learns that Paulie and Jimmy have set a trap for him in Florida. Although he is clearly thankful for escaping the mafia alive, he says that he will miss the life of organized crime, and laments the fact that he will now going to have to live a law-abiding life. Or as he puts it, "I get to live the rest of my life as a schnook."
Title cards shown before the closing credits state that Henry returned to narcotics dealing but cleaned himself up, Paul Cicero died in 1988 in prison, and Jimmy Conway (at the time of the film's release) was serving 20 years-to-life in a New York State prison and would not be eligible for parole until 2004 (although he died in 1996 of stomach cancer).