(This page already exists) Joseph Magliocco

Giuseppe Magliocco (1898 - Dec. 28, 1963)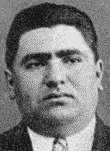 Others report that Magliocco's involvement in an unsuccessful Joe Bonanno plot to assassinate Carlo Gambino and Tommy Lucchese resulted in a sort of trial before the Mafia's ruling Commission. Magliocco's life was spared, but he was removed from his position of authority over the Profaci family (probably what the Gambino-Lucchese wing was hoping for all along). Magliocco was replaced by Gambino ally Joseph Colombo, though some New York journalists believed that Magliocco's protege Sonny Franzese was next in line for the underworld post. Magliocco died of a heart attack at West Islip's Good Samaritan Hospital late in 1963, shortly after being relieved of power.
Ad blocker interference detected!
Wikia is a free-to-use site that makes money from advertising. We have a modified experience for viewers using ad blockers

Wikia is not accessible if you've made further modifications. Remove the custom ad blocker rule(s) and the page will load as expected.