Giuseppe "Pino" Greco (January 4, 1952 - September [[1985]) was a hitman and high-ranking member of the Sicilian Mafia. A number of sources refer to him exclusively as Pino Greco although Giuseppe was his Christian name; "Pino" is a frequent abbreviation of the name Giuseppe. One of the most prolific killers in criminal history, he came from the Greco Mafia family, a prominent clan from Ciaculli (he was a distant relative of Salvatore "Ciaschiteddu" Greco.) His father was also a Mafioso nicknamed Scarpa, Sicilian for "Shoe", hence Giuseppe's nickname of Scarpuzzedda; "Little Shoe".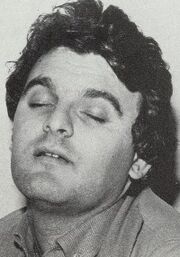 Ad blocker interference detected!
Wikia is a free-to-use site that makes money from advertising. We have a modified experience for viewers using ad blockers

Wikia is not accessible if you've made further modifications. Remove the custom ad blocker rule(s) and the page will load as expected.