Giuseppe Bonanno
Talk

0
1,510pages on
this wiki
Giuseppe "Joe Bananas" Bonanno (January 18, 1905 – May 12, 2002) was a Sicilian-born American Mafioso who became the boss of the Bonanno crime family. He was nicknamed "Joe Bananas," a name he despised because it made him sound crazy.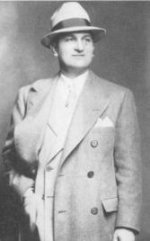 Biography
Edit
Early life
Edit
Bonanno was born in Castellammare del Golfo, Sicily, Italy, to Salvatore Bonanno and Catarina Bonventre. In 1906 the 26-year-old Salvatore took his young wife and one-year-old son to the United States. He is the godson of mobster Felice Buccellato. They settled in Brooklyn, where Salvatore operated a bar/restaurant. In 1911, Salvatore was summoned back to Castellammare by his brothers because the Bonanno family business was being threatened by a rival family. Salvatore died in Sicily in 1915, followed by his wife, Catarina, who died in 1920, making Joseph an orphan at the age of fifteen. In 1921, Joseph enrolled in a nautical college in Palermo, where he was expelled for leading a "radical" group against Mussolini's oppression. He is the brother-in-law of Bonnano crime family mob boss Frank Labruzzo and a blood relative of Gaspar DiGregorio, who is also related to marriage to Bonanno by being the brother-in-law to his cousin Stefano Magaddino. Joe was also an in-law to John Morales who served as a underboss to Frank Labruzzo.
Future temporary Bonnano crime family mob boss Natale Evola was an usher at Joseph Bonanno's wedding. The following year, the dictator Benito Mussolini rose to power in Italy. Mussolini viewed the Mafia as an unacceptable threat to the exclusive power of the Fascist regime. His ally Cesare Mori, known as the "iron prefect" of Palermo, began a ruthless crackdown against the Mafia. Hundreds of Sicilians – many of whom were not Mafiosi – were arrested, tortured, and executed. Due to these harsh measures, Bonanno and his relative Peter Magaddino joined an anti-fascist student group. As a result of his anti-Mussolini activities, an arrest warrant was issued for Bonanno, forcing him and Magaddino to flee Italy. The men first traveled by freighter to Marseilles, France, then to Paris and finally to Cuba. From Cuba, Bonanno was smuggled to the west coast of Florida by boat. Bonanno eventually returned to his childhood neighborhood in Brooklyn near Roebling Street and Metropolitan Avenue. Bonanno, now nineteen years old, moved into the home of his uncle, Peter Bonventre, a barber. Before long, the youthful Bonanno affiliated himself with the neighborhood Mafiosi, also mainly from Castellammare, and began a life of crime as a bootlegger and illegal lottery operator.
The Mustache Petes
Edit
Almost from the beginning, Bonanno was recognized by his accomplices in Brooklyn as a man with superior organizational skills and quick instincts. He also became known to the leader of Mafia activities in New York: Giuseppe "Joe the Boss" Masseria. Masseria became increasingly suspicious of the growing number of Castellammarese in Brooklyn. He sensed they were gradually disassociating themselves from his overall leadership. The Castellammarese faction of the Mafia, headquartered in Williamsburg, Brooklyn, was led by Salvatore Maranzano. He had been sent over by Don Vito Cascio Ferro, the Sicilian mafia leader. The two main bosses of Castellammarese, Guiseppe Masseria and Salvatore Marazano, were from a breed of mafia figures that ran their factions in the style of the old world Italian/Sicilian style which became known as "Mustache Petes", which was the name given to members of the Sicilian Mafia who came to the United States (particularly New York City) as adults in the early 1900s.
Castellammarese War (1927)
Edit
In 1927 violence broke out between the two rival factions that shortly developed into all-out war. This war between Masseria and Maranzano became known as the Castellammarese War. It would continue for more than four years. By 1930, Maranzano's chief aides were Bonanno (as chief of staff), Joe Profaci, Tommy Lucchese and Joseph Magliocco. Tommy Gagliano ran another gang that supported Maranzano. The Buffalo, New York mob boss Stefano Magaddino, another Castellammarese, also supported Maranzano. Magaddino's son was Peter Magaddino, a boyhood friend of Bonanno from his student days in Palermo. Masseria had Lucky Luciano, Vito Genovese, Joe Adonis, Carlo Gambino, Albert Anastasia and Frank Costello on his side.
The "Young Turks" vs. "Mustache Petes"
Edit
However, a third, secret faction soon emerged, comprised of younger mafiosi on both sides disgusted with Masseria and Maranzano's old-world ways. This group of "Young Turk" mafiosi was led by Luciano and included Costello, Genovese, Adonis, Gambino and Anastasia on the Masseria side and Profaci, Gagliano, Lucchese, Magliocco and Magaddino on the Maranzano side. Although Bonanno was more steeped in the old-school traditions of "honor," "tradition," "respect" and "dignity" than others of his generation, he saw the need to modernize and joined forces with the Young Turks. By 1931, momentum had shifted to Maranzano and the Castellammarese faction. They were better organized and more unified than Masseria's men, some of whom began to defect. Luciano and Genovese urged Masseria to make peace with Maranzano, but Masseria stubbornly refused. In the end, Luciano and Genovese concluded a secret deal with Maranzano. In return for safety and equal status for Luciano in Maranzano's new organization, Luciano and Genovese murdered Masseria and ended the Castellammarese War.
Having seized control of the American Mafia operations, Maranzano briefly became the Mafia's "Capo di tutti capi" or "capo dei capi", in both Sicilian and Italian meaning the "Boss of All Bosses", which he avariciously labeled himself as. Looked at as a burden and an obstacle amongst the group of younger mobsters such as Lucky Luciano and Genovese from furthering their operations in the illegal distribution of alcohol during Prohibition, Maranzano would evenutally be assassinated by a younger faction led by Luciano, who established a power-sharing arrangement rather than a "boss of bosses" to prevent future wars.
The Bonanno Crime Family
Edit
The Bonanno crime family's underbosses were Frank Garofalo and John Bonventre. Although the Bonanno family was smaller than the other New York families, it was operated more efficiently.[citation needed] Since there was virtually no internal dissension and little harassment from other gangs or the law, the Bonanno family prospered in the running of its loan sharking, bookmaking, numbers running, prostitution, and other illegal activities. In 1938, Bonanno left the country, then re-entered legally at Detroit so that he could apply for citizenship.
Bonanno's large cash position gleaned from crime allowed him to make many profitable real estate investments during the Great Depression. His legitimate business interests included areas as diverse as the garment industry (three coat factories and a laundry), cheese factories, funeral homes, and a trucking company. It was said that a Joe Bonanno-owned funeral parlor in Brooklyn was utilized as a convenient front for disposing of bodies: the funeral home's clients were provided with double--decker coffins, and more than one body would be buried at once.
By the time Bonanno became a US citizen in 1945, he was a multi-millionaire. The only encounter Bonanno had with the law during these years was when a clothing factory that he partly owned was charged with violating the federal minimum wage and hour law. The company was fined $50; Bonanno was only a shareholder in the company and was not fined. Government officials would later arrest Bonanno, claiming he had lied on his citizenship application by concealing a criminal conviction; the charge was dismissed in court.
Personal life and family
Edit
In 1931, two months after Maranzano was murdered, Bonanno was married to Fay Labruzzo. They had three children: Salvatore "Bill" Bonanno, born 1932; Catherine, born 1934; and Joseph Jr., born 1945. As he prospered, Bonanno bought property in Hempstead, Long Island and moved his family out of Brooklyn. When Bill was ten years old he developed a mastoid infection of his ear that led to his being transferred to a private boarding school in Tucson, Arizona. Bonanno and his wife would visit their son during the winter months. Eventually, Bonanno purchased a house in Tucson.
Later years and Bonnano's passing
Edit
Bonanno and his son subsequently moved to Arizona, where he was at one time sent to jail by the Federal Bureau of Investigation to serve time for various charges during his previous stay in that state. In 1983, he wrote his autobiography A Man of Honor. The government seized the opportunity and questioned him about the Commission, hoping to prove its existence. He kept the vow of omertà and answered no questions. Though old and in poor health, he was jailed for nearly a year because of this. Bonanno was never convicted of a serious crime. He was once fined $450 and was also jailed for contempt of court for refusing to answer questions, being released in 1986 after serving fourteen months. Upon retirement, Bonanno was allowed to live in peace in a normal house in Tucson, Arizona with his family. Joseph Bonanno, the last remaining Mafia don who survived Italian fascism, Mustache Petes, and his own bloody war, died May 12, 2002 of heart failure at the age of 97.