Gastone Moschin (born June 8, 1929) is an Italian actor. Born in San Giovanni Lupatoto (Veneto) he began his career in the 1950s as theatre actor, first with the Stable Theater in Genoa and then with the Piccolo Teatro in Milan. In the same period Moschin also began to play in feature films, such as La rivale (1955) and L'audace colpo dei soliti ignoti (1959). In 1965, he was featured in Pietro Germi's Signori e signore. In 1968 he starred in Seven Times Seven. He starred with Barbara Bouchet in Milano Calibro 9 in 1972. His most famous role is that of Rambaldo Melandri in the Amici miei series (1975-1985). He also had a part in Francis Ford Coppola's The Godfather Part II, as Massimo Fanucci. Moschin subsequently worked in productions for both Italian and French television.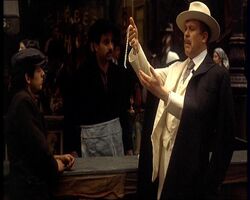 Ad blocker interference detected!
Wikia is a free-to-use site that makes money from advertising. We have a modified experience for viewers using ad blockers

Wikia is not accessible if you've made further modifications. Remove the custom ad blocker rule(s) and the page will load as expected.