Frederico "Fredo" Corleone is a fictional character in Mario Puzo's novel The Godfather. In the fictional universe of the novel and its film adaptation, he is the middle brother to Sonny (James Caan) and Michael Corleone (Al Pacino), elder brother to Connie (Talia Shire) and son of Vito Corleone (Marlon Brando), head of a powerful Mafia family. Fredo was portrayed by late Italian-American actor John Cazale in Francis Ford Coppola's film adaptation of the novel, as well as in its sequel.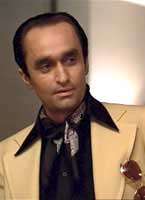 In Puzo's novel, Fredo is thought of in the Corleone crime Family as the weakest of the three Corleone brothers, and therefore is given its unimportant businesses to run. Despite being a weak and sickly child, however, Fredo is the most obedient and dutiful of the Corleone children. In a pivotal scene in the novel and film, Fredo attempts to immediately retaliate after the attempted assassination of his father on a New York street by men working for drug kingpin Virgil Sollozzo (Al Lettieri). However, he fumbles with the gun, drops it, and is unable to return fire. He then sits on the street curb next to his unconscious father and weeps. In the novel, he becomes quite sick after his father's shooting, going into shock after the incident. To help him recover and to protect him from any possible reprisals, Sonny sends him to Las Vegas under the protection of former Murder, Inc. torpedo Moe Greene. While in Las Vegas, Fredo learns the casino trade and becomes a power in his own right. After Sonny's assassination and Vito's death, the younger Michael is appointed head of the family over Fredo, causing a deep rift between the two brothers which is expanded upon in Coppola's later sequels to the first film adaptation. In the original novel, Fredo's primary weakness is his womanizing, a habit which he develops only in Las Vegas (According to Moe Greene, "He was banging cocktail waitresses two at a time"). In the films, Fredo's lack of intelligence plays a greater role than it does in the novel. He is seen as far less mentally acute than his younger brother Michael, who openly considers him as an idiot.
In the beginning of The Godfather Part II, Fredo has become Michael's underboss. He is unable to control his intoxicated wife, Deanna Dunn. After she danced with another man, he furiously drags her off the dance floor and threatens to hit her. Deanna mocks him by saying that he "couldn't belt [his] momma," and that he's jealous because he's not "a real man." His wife has to be hauled away by Michael's men. In a flashback to the early days of the Corleone family, there is a scene where an infant Fredo is treated for pneumonia. Fredo betrays Michael when approached by Johnny Ola, an agent of rival gangster Hyman Roth during the negotiation of a business deal between Roth's organization and the Corleone family. With Ola and Roth claiming that Michael is being particularly difficult in the negotiations, Fredo secretly agrees to aid Ola and Roth in exchange for compensation. The film never reveals what specific assistance Fredo provided Ola and Roth against Michael, but this betrayal ultimately results in an assassination attempt against Michael at his Lake Tahoe home. Fredo later ambiguously claims that his goal in the secret deal had been simply to enrich himself in a manner that did not require him to be dependent on Michael to "take care" of him, but swears that he did not realize he was being used as part of a larger plot to kill his brother. Michael discovers Fredo's role in the plot during his trip to Havana when Fredo, forgetting that he had previously told Michael that he'd never met Johnny Ola, lets it slip out that he and Ola had been in Havana together. Michael confronts Fredo later and tells his older brother, "You broke my heart." Later, when Michael is being pursued by a Congressional Committee investigating organized crime, he has a talk with Fredo and realizes that Fredo had both withheld important information from him about Roth's connection with the Committee's lawyer and is deeply resentful and jealous of Michael's role in the family business. Michael disowns and banishes Fredo from the family. Upon their mother's death, and at Connie's urging, Michael seemingly forgives Fredo. However, it is only to draw Fredo in so as to have him murdered, something Michael would not permit while their mother was alive. Neri shoots him in the head.
Ad blocker interference detected!
Wikia is a free-to-use site that makes money from advertising. We have a modified experience for viewers using ad blockers

Wikia is not accessible if you've made further modifications. Remove the custom ad blocker rule(s) and the page will load as expected.