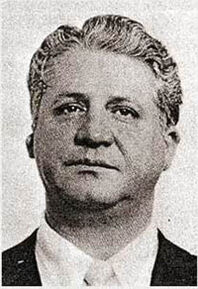 Frankie Fratto (died 1996) was a member of the Chicago Outfit and brother of Des Moines, Iowa boss "Cockeye" Louis Fratto.
Biography
Edit
Fratto was a native of Chicago who operated his mob activities in Des Moines, Iowa with his brother Louis Fratto. He got his nickname because he was born with a severely deformed left ear, Mr. Fratto was perhaps best known by police and federal investigators as "Half Ear" and "One-Ear Frankie." The moniker was a source of embarrassment and years before mod haircuts became stylish, he wore his hair long to cover the defective ear.
Crime author Ovid Demaris stated in his book, Captive City that Frank "One-ear" Fratto's "record dates back to 1941 with more than 10 arrests, (including) fugitive, theft, and assault to commit murder"… convicted for "inner state theft of whiskey (with) three years probation." Also a suspect in the 1957 murder of Williard Bates and the 1963 murder of Alderman Bejamin Lewis, Frank was considered "a syndicate terrorist on the north side who muscled his way into the aluminum siding and storm window business." Fratto first attracted police attention in 1942 when Iowa authorities accused him and two others of beating a Des Moines bookmaker in a dispute over money. Arrests for theft and escape followed.
He was a known loan shark who later dabbled in the scavenger, nightclub and storm window businesses, Mr. Fratto enjoyed the company of top recording singers, champion boxers and reputed crime syndicate bosses. He mingled with many celebrities and was known to entertainers as a loyal Chicago benefactor and to police as a veteran mob figure.
By 1970, the year he was publicly identified in a state report as a key figure in the Chicago Mafia's loan shark racket, Fratto had achieved a measure of respectability. Three of his closest friends in the entertainment field, singers Vic Damone and Sammy Davis Jr. and comedian Jimmy Durante, often accompanied him at benefits to raise funds for retarded children.
Fratto died in 1996 of natural causes at the age of 81.
Ad blocker interference detected!
Wikia is a free-to-use site that makes money from advertising. We have a modified experience for viewers using ad blockers

Wikia is not accessible if you've made further modifications. Remove the custom ad blocker rule(s) and the page will load as expected.