Frank Vincent (April 4, 1939 - September 13, 2017) was an Italian American actor and musician. Among other noted roles, he played Phil Leotardo in the HBO series The Sopranos.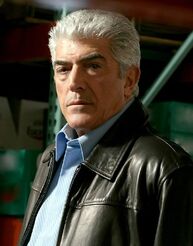 Vincent, an Italian American, was born Frank Vincent Gattuso in North Adams, Massachusetts, but was raised in Jersey City, New Jersey. His father, Frank Vincent Gattuso, Sr., was an iron worker.[1] Vincent has two brothers: Nick and Jimmy. His father was one of six children (Lucia [Lucille], Filippo [Philip], Antonio (Tony), Frank, James (Jimmie) and Cecilia [Ceil]) all born in the United States to Sicilian immigrants Nicolo Gattuso and Francesca di Peri. His Uncle Phil served in the UK in WW2 and married an English girl so Frank had an English cousin called Michael Gattuso. He was of Sicilian (paternal grandfather) and Neapolitan descent. His mother was called Mary Ricci.
As an accomplished player of the drums, trumpet and piano, Vincent originally intended on a career in music, but in 1975, he co-starred in the low-budget gangster movie, The Death Collector along with Joe Pesci, where he was spotted by Martin Scorsese. Scorsese was impressed and hired Vincent to appear in a major supporting role in Raging Bull, which saw him link up once again with Pesci. The two would go on to appear together in several other movies, often with their good friend Robert De Niro. Vincent was usually typecast as a gangster. He appeared in Scorsese's 1990 film Goodfellas, where he played Billy Batts, a 'made guy'. He also played a prominent role as gangster Frankie Marino in Scorsese's 1995 film Casino. In 1996, Vincent appeared in rap artist Nas' video "Street Dreams" as his character Frankie Marino from Casino. The video mirrors Casino at certain times. In the television movie, Gotti, Vincent played Robert "DiB" DiBernardo, an associate of Mafia boss John Gotti, whose life the film chronicled. In The Sopranos, he played New York Boss Phil Leotardo. Vincent also had a leading role in the heist movie This Thing of Ours in 2003. One of his more light-hearted roles came when he was in a British television commercial for Peugeot cars. In early 2005, Frank Vincent appeared on Irish television in a series of television commercials for Irish bank Permanent TSB. In 1999, he won the Italian American Entertainer of the Year Award. Among Frank's other noted performances include his appearance in the 2003 film Remedy. In 2001, Vincent lent his voice to Mafia Don Salvatore Leone in the controversial computer and video game Grand Theft Auto III. He later reprised that role in Grand Theft Auto: San Andreas (2004) and Grand Theft Auto: Liberty City Stories (2005). In 2006, he released his first book, "A Guy's Guide to Being a Man's Man" to positive reviews. His idol was Dean Martin. He has also released a line of premium signature series hand-rolled cigars which have his picture prominently displayed on the band.
Vincent died in New Jersey on September 13, 2017 due to complications from heart surgery.
Ad blocker interference detected!
Wikia is a free-to-use site that makes money from advertising. We have a modified experience for viewers using ad blockers

Wikia is not accessible if you've made further modifications. Remove the custom ad blocker rule(s) and the page will load as expected.