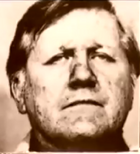 Frank "The Irishman" Sheeran (October 25, 1920 – December 14, 2003), was a labor union official and a mafia hitman, who worked for primarily the Bufalino crime family, and many other mafia families.
In his capacity as a high official in the International Brotherhood of Teamsters, Sheeran was a leading figure in the corruption of unions by organized crime. Shortly before his death, Sheeran confessed to killing Teamster leader Jimmy Hoffa, and notorious mobster Joe Gallo. Sheeran made a deathbed confession to his Lawyer, stating that "the JFK Assassination was a mafia hit." According to Sheeran, Mafia bosses Carlos Marcello, Sam Giancana and Santo Trafficante, Jr ordered the JFK Assassination, Sheeran stated that he provided sniper rifles to ten mafia hitmen, and that the ten mafia hitmen were around Lee Harvey Oswald to make sure the assassination went as planned. Sheeran stated that "Carlos Marcello, Santo Trafficante, Jr and Sam Giancana paid off Lee Harvey Oswald to be the fall guy, and also hired mafia hitman Jack Ruby to silence Oswald after JFK's assassination was successfully complete. On his deathbed confession, Frank Sheeran also stated that mob bosses Carlos Marcello, Santo Trafficante, Jr and Sam Giancana was able to efficiently assassinate JFK with the help of corrupt CIA Agents in their pocket's. Author Charles Brandt would detail what Sheeran told him about his alleged murder of Hoffa in his 2004 book I Heard You Paint Houses.
Early life
Edit
Frank Sheeran was born in Darby, Pennsylvania, a small working-class borough on the outskirts of Philadelphia. His family was of mixed Irish- and Swedish-American descent. He grew to his full adult height of 6 ft 4 in (1.93 m) tall, and weighed 290 pounds. while serving in the Army during World War II.
World War II
Edit
He enlisted in the U.S. Army in 1941, and was assigned to the military police before transferring to the 45th Infantry Division, known as "The Thunderbirds." It was while serving in World War II that Sheeran developed a callousness to the taking of human life. He served 411 days of combat duty (a large amount; average is around 100), and participated in the Dachau massacre.
Criminal career
Edit
When he returned to Pennsylvania, he became a trucker and married Mary, an Irish immigrant. Daughters Mary Anne, Peggy and Dolores were born in the years that followed.
But he also made extra money on the side by committing crimes, including murder for hire. Due to his criminal acumen, he became a close associate of Mafia bosses Russell Bufalino and Angelo Bruno. It was Bufalino, the head of the Bufalino crime family, who acted as Sheeran's mentor throughout his life.
The Teamster's Union
Edit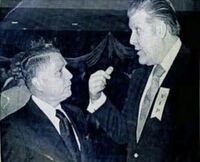 At Sheeran's request, Bufalino also set him up with Teamsters International President Jimmy Hoffa. Hoffa, who became a close friend, used Sheeran for muscle, including the assassination of recalcitrant union members and members of rival unions threatening the Teamsters' turf.
The title of the book Brandt wrote about Sheeran's life and career in organized crime "I Heard You Paint Houses" is based on the first words allegedly ever spoken to him by Jimmy Hoffa when they were introduced, which is slang for a contract killing.
Sheeran died on December 14, 2003, in a nursing home near Philadelphia.
Disputed Allegations
Edit
He also claimed to have been part of the provisioning of the anti-Fidel Castro forces involved in the Bay of Pigs invasion and had intimate knowledge about the assassination of President John F. Kennedy. According to Sheeran, Jimmy Hoffa wanted Kennedy dead as his brother Bobby Kennedy, the Attorney General of the United States, was harassing him. The assassination of President Kennedy was a Mafia hit, according to Sheeran, who did not actively participate in the plot, but who transported three rifles to the alleged assassins via David Ferrie.
In the book, I Heard You Paint Houses: Frank "The Irishman" Sheeran and the Closing of the Case on Jimmy Hoffa (2004), author Charles Brandt claims that Sheeran, a professional killer for the mob and longtime friend of Hoffa's, confessed to assassinating Hoffa. According to Brandt, Chuckie O'Brien drove Sheeran, Hoffa, and fellow mobster Sal Briguglio to a house in Detroit. He claimed that while O'Brien and Briguglio drove off, Sheeran and Hoffa went into the house, where Sheeran claims that he shot Hoffa twice in the back of the head. Sheeran says that he was told that Hoffa was cremated after the murder. Sheeran also confessed to reporters that he murdered Hoffa. Blood found in the Detroit house where Sheeran claimed the murder happened was determined not to be Hoffa's.
Additionally, Sheeran claimed to have been the triggerman behind another famous mob-related murder, that of Crazy Joe Gallo. An eyewitness to the Gallo hit was discovered by Charles Brandt and confirmed that Sheeran was the shooter at Umberto's Clam House, and told of how IRA man John 'The Redhead' Francis drove the getaway car, explaining how mobsters were given different tasks during a hit so that no one knew the entire details.
"If one person did everything, they'd be shot afterwards to keep them quiet. So everyone had a role without anyone else knowing. It meant there wouldn't be a massacre afterwards", Sheeran told Brandt, a former Delaware prosecutor.
Ad blocker interference detected!
Wikia is a free-to-use site that makes money from advertising. We have a modified experience for viewers using ad blockers

Wikia is not accessible if you've made further modifications. Remove the custom ad blocker rule(s) and the page will load as expected.