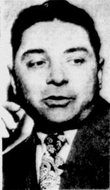 Frank Scappatura (born 1902- date of death unknown) was a member and soldier of the San Francisco crime family.
Biography
Edit
Scappatura was born in Chicago, Illinois and later moved to California where he became a member of the San Francisco crime family and gained the rank of capo. He was the co-owner of Sunland Sales Company which dealt in olive oil. Scappatura also operated the Coronet Olive Oil Co. in Oroville, California. He was one of various suspects in the murder of Chicago Outfit mobster Nick DeJohn in 1947. Scappatura and Anthony Lima were identified by an eye witness as being around the car in which DeJohn's strangled corpse was found. All of the mobsters suspected in the murder investigation went into hiding including Sebastiano Nani, Leonard Calamia and Michael Abati. Scappatura was known as a "Tough Guy" and always boasted that he could beat any rap. When he was arrested during the Nick DeJohn murder case, he had only one thing to say "I can beat it", and he did. The charges were eventually dropped against all defendants in April of 1949. Scappatura was reportedly involved in a phony loan transaction scam in California and was also allegedly involved in an extortion racket targeting Bay Area abortionists. Scappatura reportedly remained active in the San Francisco family until his death.
Ad blocker interference detected!
Wikia is a free-to-use site that makes money from advertising. We have a modified experience for viewers using ad blockers

Wikia is not accessible if you've made further modifications. Remove the custom ad blocker rule(s) and the page will load as expected.